Our founders knew, from personal experience, the life-changing effect that captions and live subtitles can have. For people who are deaf, deafened or hard of hearing, they can unlock the beauty of theatre and the arts, so that families and friends can enjoy the full experience together.
Captioning Awareness Week is our annual celebration of the great work that theatres, museums and galleries are doing across the country to make the arts a more welcoming and accessible place.
Captioning Awareness Week 2022.
During Captioning Awareness Week 2022, we asked users to recommend the venues they love by nominating them as a Spotlight Venue. Although more needs to be done, there are some brilliant venues who offer great access and experiences for deaf, deafened and hard of hearing audiences.
Our exhibition on the history of theatre captions in the UK, Captions Speak Louder, has been touring venues throughout 2022. During Captioning Awareness Week it was hosted by our penultimate tour venue, MAST Mayflower Studios in Southampton. We also held free online exhibition talks that anyone could join and learn more about the journey of captioned theatre.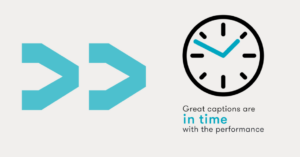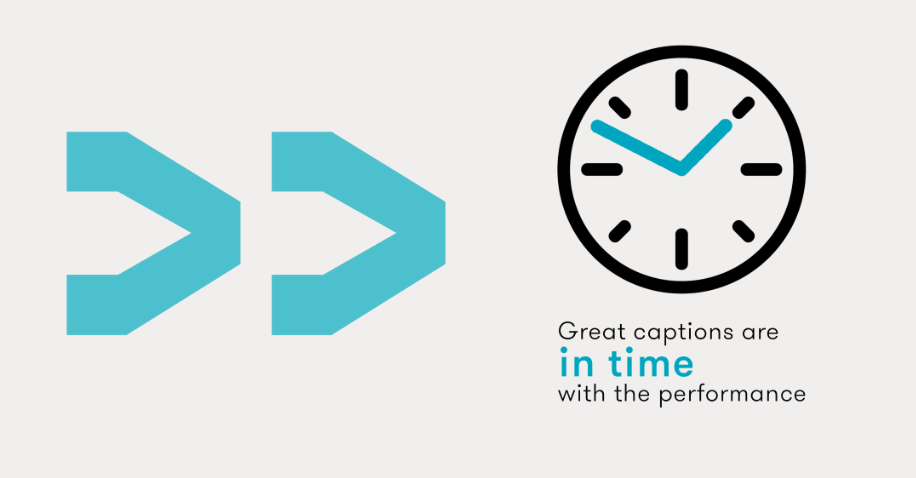 In 2022, we asked venues to think about access in terms of the experience they offer for deaf, deafened and hard of hearing audiences. We invited professionals in the arts to a series of free online events, illustrating how venues can offer a quality experience, from watching a production trailer to walking through your venue's doors and taking a seat.
We work with venues throughout the year, offering them training sessions and free resources, including the Captioning Display Standards which we launched in Captioning Awareness Week 2022.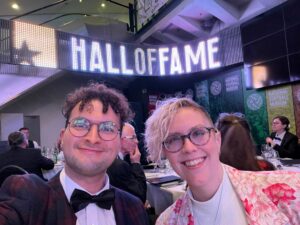 We rounded off Captioning Awareness Week 2022 at the Signature Deaf Hall of Fame awards. This was a one-off event, celebrating 40 years of Signature and recognised the people and organisations who have gone above and beyond to improve deaf communication. We were very honoured to be nominated for an award and enjoyed a glorious evening of celebrations.
There was also a whole host of wonderful performances and events for our users to see during the week. For more on captioned performances and subtitles events throughout the year, go to our what's on page.
Watch this space for Captioning Awareness Week 2023
The campaign also gives us an opportunity to reach a whole new audience and to bring captioning to people who may not have known it was an option:
Sarah
Sarah, who is profoundly Deaf, contacted us because she wanted to take her six-year-old daughter to a captioned pantomime but there wasn't one available in her local area.
"I was very disappointed that my local theatre wasn't cooperative to provide captions for the panto," she says. "Mamma Mia will be my first West End musical with my daughter, Ava. She is aware that mummy can't hear, and that I rely on subtitles every day. Ava understands that the subtitles are there to help me know what is being said."
Annie
Annie is adjusting to life with hearing loss. When we met her at a City Lit lip-reading class, she had never been to a captioned performance before.
"I love the theatre and used to go regularly. However, over the last few years I'd virtually stopped going," she says. "It took a while to realise why I wasn't enjoying it anymore: I had to admit that I couldn't keep up with the dialogue. Even with hearing aids, I missed key words and phrases."
Stagetext helped Annie rediscover her love of the arts. "Last weekend, I experienced my first live theatre for a long while," she adds. "With the help of captions, I caught every single word and so enjoyed the experience.