Captions Speak Louder – Discovering the Story of Open Captioning
The Captions Speak Louder archive tells the story of how three friends with varying types of deafness and a shared love of theatre, set out to change the world of access to the arts for deaf, deafened and hard of hearing audiences. The friends imported technology from the United States, hired their first captioner, and around a kitchen table they began work on what would become the birth of the theatre captioning in the UK, and the founding of the charity Stagetex. From the birth of Stagetext, the archive goes on to document the following twenty years of work creating better access to the arts, including our very first captioned performance, held at The Barbican Theatre on 15 November 2000.
How did we go about creating an archive?
Back in 2019, Ciara, our archivist, kicked off the Captions Speak Louder project, collating and cataloging the information and items illustrating the significant achievement of twenty years of deaf access in theatres.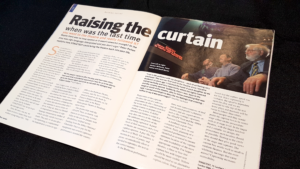 Despite the global events of 2020 and the restrictions of lockdown, Ciara continued working on the project, remotely interviewing key figures from across twenty years of Stagetext. Staff members, our founders and our captions users helped add their voices to the history and showing the true impact of the birth of theatre captions in the UK. These records, items and interviews are now held in a perminant archive at the University of Bristol Theatre Collection.
Can I find out more about the archive?
The archive will remain at the University of Bristol Theatre Collection and is a wonderful resource for academics, researchers and anyone interested in theatre or access. The catalogue is available to view on the university's website.
The contents of the archive were used to create our touring exhibition, helping us to share our story to more than 300,000 people across the UK. Find out more about the exhibition and watch some of the interviews Ciari conducted on our exhibition page.
Why is the archive so important?
Melanie Sharpe, Stagetext's Chief Executive, explains why this project was so important; 'We believe that open captions create quality and seamless access, opening the door to theatre for deaf, deafened and hard or hearing audiences. It was important that we record and share their evolution with audiences across the UK, so we came up with the Captions Speak Louder project. One in five people in the UK are deaf, deafened or hard of hearing and lots of the UK's population will know someone who could benefit from captions, so we knew it was something we should share'.
It is thanks to support from the National Lottery Heritage Fund, that we were able to create the world's first ever archive and exhibition on open captioning.