Donate to Stagetext
Make a one-off donation or set up regular giving today so that deaf, deafened and hard of hearing audiences never have to feel isolated or miss out again.
Help more people access culture
After spending their lives feeling excluded from theatres, museums and galleries, our founders took it into their own hands to force a change. In 2000, they created Stagetext and set up this charity so that none of us would have to feel that same sense of isolation.
Every pound you donate helps us bring access to your favourite venues, so they can give you the best possible experience. Whether we're buying new tablets for live subtitled tours of museums and galleries or training new captioners to work on an ever-growing number of theatre shows – we simply couldn't do it without you.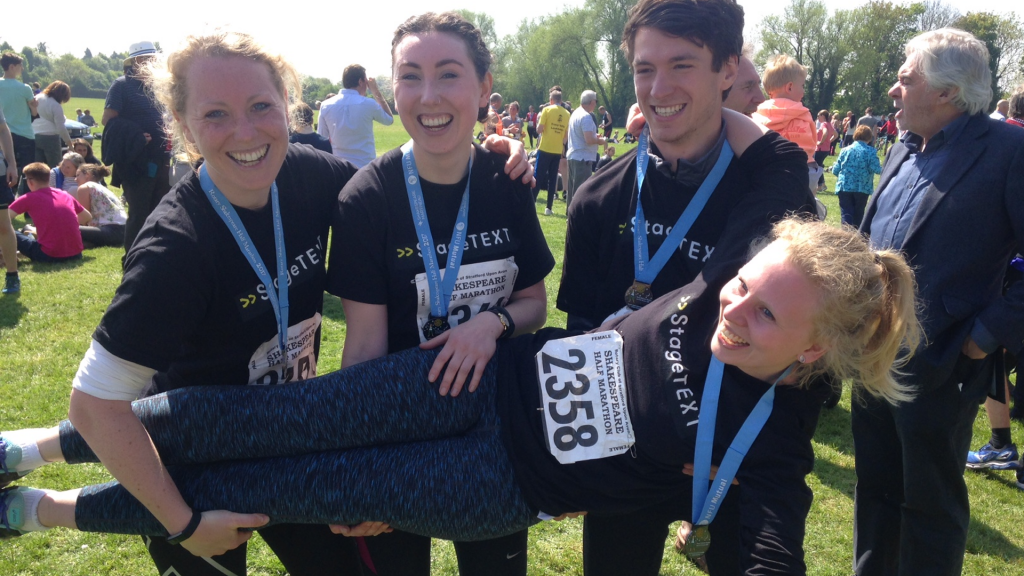 "I went to see King Lear at Donmar Warehouse with Derek Jacobi, with Stagetext captions, and I sobbed, held my breath and came out completely exhausted by the amazing work I had just witnessed. Stagetext saved my life."
Deafinitely Girly - Blogger
More ways to support Stagetext
There are plenty of ways that you can help Stagetext to keep captioning in venues and to supply access across the country.
Whether it's donating through your work's payroll, leaving a gift in your will, or even helping us out while you shop online, every pound goes a long way.
Are you shopping online? EasyFundraising makes donations to Stagetext when you make a purchase and it doesn't cost you a thing. It really is the easiest way to help raise money for Stagetext.
EasyFundraising is the UK's biggest charity shopping fundraising site and helps raise free donations. When you shop online with any of their 4,000 retailers, a small donation gets sent to Stagetext. To find out more and get started, head to: http://www.easyfundraising.org.uk
Does your company run a Payroll Giving Scheme?
Payroll Giving allows you to make a regular donation to Stagetext straight from your salary. This needs to be set up by your employers, and you can choose exactly how much you would like to give each month. Payroll Giving means you can give more for less, as the donation is made before tax.
Contact Melanie Sharpe today to find out how your company can donate.
If you'd consider making Stagetext a beneficiary in your will, you could support our mission to bring captioning to cities and towns across the UK that do not yet offer this kind of access – transforming the experience of the arts for generations of deaf, deafened and hard of hearing people.
A recent gift of £10,000 gave us the opportunity to work with 10 totally new venues. Every gift in every will makes a difference, however large or small. Even 1% could make a life-changing difference.