Online shows and events are one of the fastest growing areas for arts and culture. It's a great way for your venue to break down social and economic barriers to access, so you can reach a larger, more diverse audience.
If you'd like to welcome more people through your doors without them even leaving their homes, you've come to the right place. By considering access from the outset, you can help people who are deaf, deafened or hard of hearing enjoy your work alongside their friends and family.
Whether you've already got a full online programme of shows, talks and workshops, or are just taking your first steps online using YouTube and social media, we're here to help make your online content fully accessible.
We can help you identify the best form of access for your work, and partner with you from the planning stage right through to putting the final content online.
To talk about subtitling pre-recorded videos, please contact our Head of Services and Systems, Oliver Webster.
How it works
We can subtitle any of your videos and it really is a straightforward process. First, we tailor a quote for you based on the length of your video. You send us through your files and one of our subtitlers will transcribe the audio and manually produce the subtitles. We even work with carefully selected fonts and colours to ensure your audiences get the best quality subtitles. We then deliver your subtitle files, either as open captions or closed captions.
The subtitles are fully accessible, which means we add in descriptions of sounds happening on and off screen, use names and cues to indicate who's speaking, as well as including information about songs and music playing in the video. These are the elements that make our subtitles accessible to deaf, deafened or hard of hearing audiences. You won't find these in auto-generated subtitles or in transcripts.
If you're looking for captions or subtitles for a live event, you can find more information on our Theatre and Talks pages.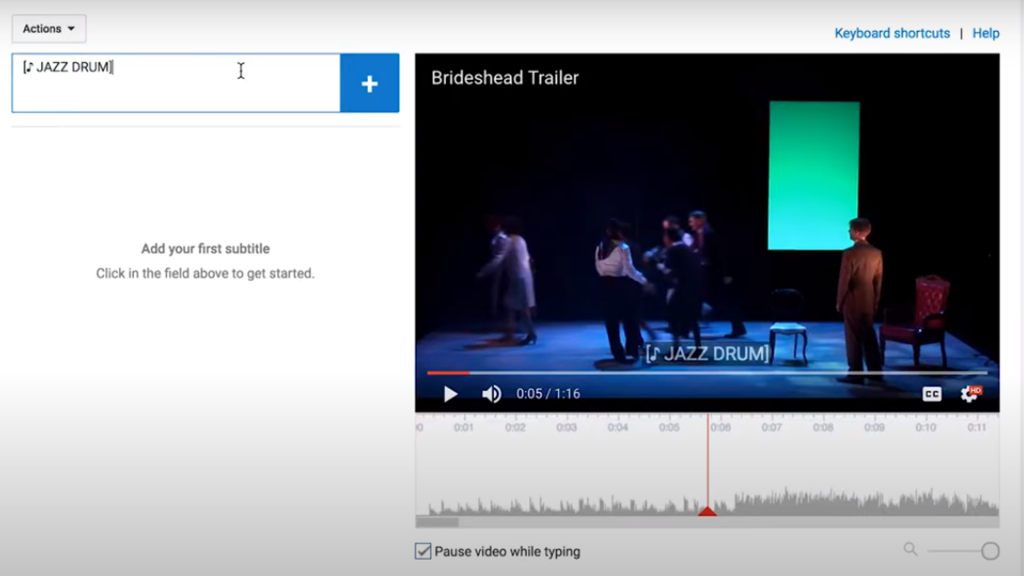 Types of digital
subtitles
Find out more about open and closed captioning of videos.
Open captions, or burnt-in subtitles, as they are often called, are subtitles that are always on display and cannot be switched off. You may be most familiar with these videos on Twitter or Facebook. These subtitles are a permanent part of the video, ensuring that it is always accessible, which is what we always advocate for.
Closed captions, or digital subtitles, are subtitles that can be turned on and off at any time. These are the subtitles you're most likely to see on YouTube, on TV, or on online streaming services.
Contact Oliver
Ask us a question about digital subtitles:
If you have questions about digital subtitling, fill in the form and our Head of Services and Systems, Oliver Webster, will be in touch.