The world's first archive and exhibition on theatre captions
Three years, 1,500 miles, over 300,000 people, ten venues and one archive. This is how we've marked the historical significance of Stagetext and the evolution of open captioning in the UK.
The contents of the Captions Speak Louder archive were used to create our travelling exhibition, helping us to share our story to more than 300,000 people across the UK. Read more about how we created the Captions Speak Louder exhibition and archive project.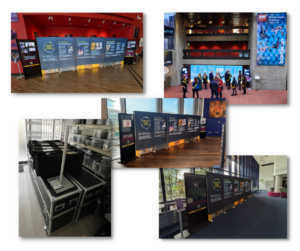 In November 2021 the exhibition was packed and ready to set off for its first stop, The Barbican Theatre in London. From January 2022 we visited nine other venues, totaling 1500 miles of travel, reaching as far north as Edinburgh and as far south as Southampton.
Thanks to all the wonderful host venues, the exhibition was very warmly received by the visitors and staff members who saw it. The front of house manager at the Festival Theatre in Edinburgh told us, 'I am passionate about access and loved having an exhibition dedicated to captioning'.
If your venue would like to host the Captions Speak Louder exhibition, please contact us here.
Captions Speak Louder online – a taster of the exhibition
Stagetext's archive, which inspired the exhibition, will live on at the University of Bristol Theatre Collection. Find out more about the archive.

What did we do before captioning? We stayed at home
John Unsworth, Caption User
Stagetext's History
In the words or our founders, staff, captioners, and users…
The Need for Captioning
Before captioning, visiting the theatre was a frustrating experience for deaf, deafened and hard of hearing people. They were unable to enjoy performances with their hearing friends.
After seeing a captioned theatre performance produced by an American company visiting London, Peter Pullan, Merfyn Williams and Geoff Brown experienced a glimpse of what accessibility looked like and they wanted to share the experience with deaf audiences across the country.
The friends imported technology from the United States, hired their first captioner, and around a kitchen table they began work on what would become the birth of the theatre captioning in the UK, and the founding of the charity Stagetext.
Our three founders in their own words….
I can go with my hearing friends and enjoy the magic and power of live theatre. I don't feel disabled or excluded anymore.
Nell Baugh, Caption User
The Art of Captioning
From the beginning, Stagetext recognised the challenges of captioning live performance. Through consultation with deaf people, captioners, theatre directors and venues.
Our first captioners were Lynn Jackson and Roz Chalmers and today there are over 50 Stagetext-trained captioners working nationally.
It gives me such pleasure to be a part of what's happening. I can now follow everything that's happening on stage.
Vivienne Keightley, caption user
Changing The Arts Landscape
Stagetext wanted more people to have access to the arts and they knew they couldn't do it alone. By working together with community groups, arts venues and other access organisations, they became part of a network for positive change.
As captioning became more widespread, audiences wanted access to different kinds of events. Stagetext began working with speech-to-text reporters to make talks in museums, discussions at art galleries, and conferences more accessible too.
In 2010, Stagetext introduced a digital subtitling and during the COVID-19 pandemic the demand for accessible content grew. Stagetext worked with arts organisations to subtitle hundreds of online events, and produced free online training for venues, so that more people could enjoy the arts from home.
You have made many deafened people feel like part of the human race again.
Early caption user