During Deaf Awareness Week 2022 we were asked to think about inclusivity. The campaign explored the theme of inclusion within the deaf, deafened, and hard of hearing community and how it impacts our everyday lives.
In order to create something helpful that would still be useful outside of Deaf Awareness Week, we came up with a list of our top tips for making venues more inclusive by improving their access. We've asked the Stagetext team to give their top tips for how theatres, museums, galleries, as well as online and digital work can be made more inclusive.
Theatres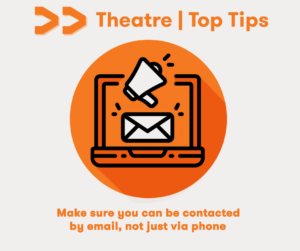 Ensure all your staff know when your captioned performances are and how to book
Every theatre works slightly differently, and this can get confusing for audience members who want to book tickets to captioned performances. Making sure your staff are up-to-date on when shows are, and know exactly how the accessible booking process works can really improve the whole experience.
Make sure that the staff on duty are all trained in deaf awareness
There are a lot of simple things you can learn to help with your deaf awareness; you can learn simple British Sign Language phrases and fingerspelling to help with communication, ensure the foyer is well lit to help with lipreading, and make sure there is plenty of signage in the building as not everyone will hear tannoy announcements. Also, try to keep your trained staff consistent at captioned performances so that those attending grow to know the staff they can rely on.
Make sure you can be contacted by email, not just via phone
This might sound obvious but it's often overlooked. Your deaf and hard of hearing audiences aren't always going to use a phone. Having an email address specifically for access can help with bookings as well as supplying up-to-date information on shows.
Have a designated 'quiet area' where people can talk without background noise
Quiet areas away from crowds and without any music can be really beneficial, there will be no distractions and communicating will be easier between audience members and your staff.
If you have captioning equipment in-house, make sure its regularly tested
If your venue does captioning in-house, you've probably got caption units, special software, and designated laptops to run everything on. Make sure to check these are all working at least a week in advance, so there are no technical mishaps on the day. A small glitch might mean an inaccessible show for your audience.
Digital and online access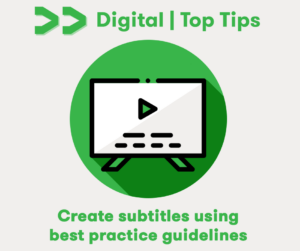 Subtitle videos even if there is no speech
It is important to subtitle all sounds, such as, wind or birdsong. Subtitles should enable deaf viewers to have the same experience and get all the same information as a hearing viewer.
Ensure your social media content is subtitled, including stories
In addition to improving accessibility, many people scroll through videos with their sound off. How many times have you scrolled through muted videos on Instagram or Facebook whilst on the train? Don't miss out on viewers who would prefer to keep the sound off.
Make it known that your content is subtitled
Post about it on your website, blog and social media. When your audience is aware, they can tell their friends. Clear and easy to find information about access makes people feel welcome. Support events such as Captioning Awareness Week and Deaf Awareness Week to show your commitment to accessibility.
Make sure your subtitles are best practice
One example of best practice is that each subtitle should be visible for at least one second. Look at our handy sheet of guidelines on our resources page: www.stagetext.org/for-venues/resources
Certain fonts are more accessible than others. Ensure that you use an accessible one for your subtitles.
We use Arial, and subtitles should be sized to fill the bottom 20% of the video. If you would prefer a different font, please ensure that it is a Sans Serif one. This means that the letters do not have extra lines to them, making them clearer and easier to read.
Working with Live Subtitles
Preparation is key
When working with live subtitles, set time aside for preparation. Even though your talk, tour, or conference may not have a script, ensuring that speech-to-text-reporters (STTRs) know the names of speakers, job titles, the content of any presentations, and any technical jargon, will help with the quality of the live subtitles.
Make sure Zoom is up to date
Live subtitling over Zoom, Teams, and other types of video conferencing software can be affected by old software. Not having the latest updates can mean your subtitles are not displayed properly or it may stop them coming through altogether.
Clear audio makes clear subtitles
Whether you're working in a venue or online, check the audio feed. Ensuring that the STTR can hear people loudly and clearly will help them produce more accurate subtitles.
Brief your speakers
Let your speakers know that they're being subtitled, make sure they speak at a good volume, at a steady pace, and use a microphone where possible.
Automated subtitles aren't fully accessible
Automated subtitles have come a long way and though some might find them useful, they still don't offer full accessibility. STTRs are more precise when creating live subtitles and can deliver up to 99% accuracy, giving a much better experiences to deaf, deafened and hard of hearing audiences.