Stagetext is 21 Years Old in November!
Celebrate with us and help us build our archive
We are incredibly proud of all the performances and events we've made accessible over the years, and we couldn't have done it without all our fantastic supporters, users, staff, volunteers and clients involved with Stagetext over the years.
The original plan was to celebrate our 20th anniversary last year, but as you know the pandemic prevented us from getting together in person for this amazing milestone. Instead, we will be celebrating our 21st birthday this year.
With funding received from The National Lottery Heritage Fund we are creating an archive to be held permanently at University of Bristol Theatre Collection, and creating a touring exhibition highlighting how Stagetext have grown and developed over our 21 years into one of the country's leading access charities.
You can be part of Stagetext's history! We want you to send us your memories from your first experiences with captioning or consider donating memorabilia you may have collected from any of Stagetext's events for the exhibition or archive.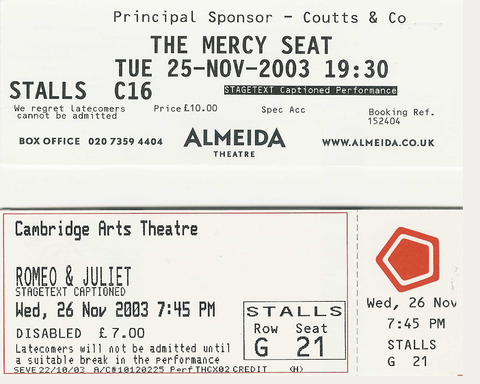 We would love for you to share some your favourite memories, tell us about the emotions that you experienced when you first discovered or experienced any of our captioned events.
This could be going to watch any of our captioned performances, a talk, a show, or any online events. We'd love to hear how these events may have positively impacted your life and theatre going experience with family and friends.
We want to hear any funny, emotional or surprising stories that may have in relation to Stagetext and your experience of captioning.
We'd also love to know if you have any materials relating to Stagetext events, like programmes, leaflets, tickets or articles that you are happy to donate. These could make incredible additions to the archive and exhibition, and we'd be very grateful if you allowed us to use any of your pieces.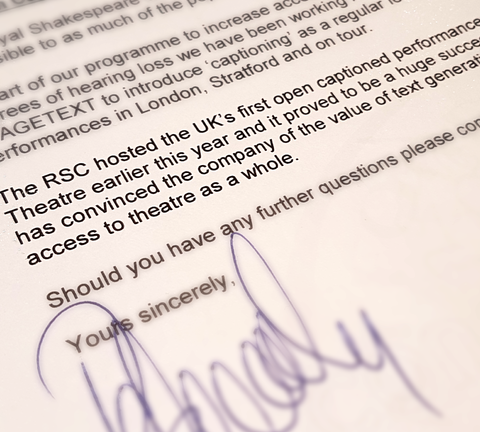 If you do think you have any stories, memories, or material that may be relevant, please let us know by emailing Deepa first with a description of the material. Not everything offered will be suitable (we may have it already; we've thrown very little out!). But if it's suitable for the archive the donation will be catalogued and eventually go on to live in Bristol.
Please let us know in advance if you want any items returned as we can make copies so you don't lose the originals.
The deadline to receive the accepted materials is 30th July 2021. Please contact us in good time with the description of your items so they arrive in time for the deadline.
You can tell us about your experiences and let us know about any materials you may have by emailing [email protected] or by sending a letter to: Deepa Shastri, Stagetext, 81 County Street, London, SE1 4AD.
---
Top Image: A quick mock up of what our exhibition may look like. See your items and stories on display for everyone to enjoy.
Middle Image: Two tickets from Stagetext's early days, we'd love to see any tickets or memorabilia you have in your collection.
Bottom Image: A letter from the RSC booking in some of Stagetext's first ever captioned shows, do you have any stories to share from those early days?