During Captioning Awareness Week 2022, we asked venues to think about the quality of experience they offered to their deaf, deafened and hard of hearing audiences. The 2022 campaign asked venues to prioritise giving a quality experience for deaf audiences, from watching a production trailer to walking through your venue's doors and taking a seat.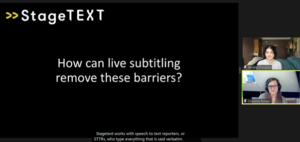 We invited cultural professionals to join Stagetext for a series of free online events, which illustrated how venues can offer a quality accessible experience. Venues were invited to join a panel discussion and a series of workshops held throughout the week, where information about best practice, free resources and the training were shared.
Below is a list of the resources that we shared during Captioning Awareness Week but are available to arts and cultural organisations all year round.
Captioning Display Standards – A guide to help venues understand the principles of quality captions for all live scripted theatre captions, whether displayed on a caption unit, a tablet or phone, or online.
Stagetext's training – Perhaps you and your team could benefit from an introduction to deaf awareness or more focused training to produce your own subtitles.
Venue best practice checklist – Our best practice checklist gives you a starting point on how to make sure your venue is accessible.
Digital subtitling guidelines – Our guidelines will help you format your subtitles to give your audience the best experience possible.
Digital subtitling webinars –  A series of free webinars available to help you get started subtitling your own videos. These webinars will teach you the importance of deaf awareness, why access is so essential, and how to use YouTube's free platform to create your own subtitles.
Understanding the audience – Our helpful infographics will give you a quick insight into the size of your potential deaf audience, show you how people use subtitles differently, and support your understanding of who benefits from access.
Watch this space for details on Captioning Awareness Week 2023.
"I went to see King Lear at Donmar Warehouse with Derek Jacobi, with Stagetext captions, and I sobbed, held my breath and came out completely exhausted by the amazing work I had just witnessed. Stagetext saved my life."
Deafinitely Girly - Blogger
Why is this campaign important?
Captioned performances and exhibitions have brought to life some of the best arts in the UK, making a huge difference to those who were unable to access them before 2000.
What are captions?
Captions are similar to television subtitles, but with the actors' or presenters' words appearing on screens at the same time as they are spoken or sung.