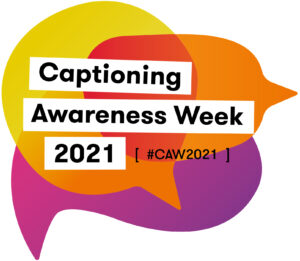 Captioning Awareness Week (#CAW2021) is back, with the seventh annual campaign taking place from 15-21 November 2021.
This toolkit outlines the plans for this year and the ways you can get involved to help raise awareness of access to the arts for deaf, deafened and hard of hearing people.
This annual event sees theatres, museums, and galleries across the country holding captioned and live subtitled events, alongside a campaign for improved access to the arts for deaf, deafened and hard of hearing audiences. We also want to build on the success of previous campaigns, which has been featured on ITV, and the BBC , amongst others.
This year also coincides with the 21st anniversary of arts charity Stagetext, whose first captioned performance took place in the Barbican in November 2000.
"I went to see King Lear at Donmar Warehouse with Derek Jacobi, with Stagetext captions, and I sobbed, held my breath and came out completely exhausted by the amazing work I had just witnessed. Stagetext saved my life."
Deafinitely Girly - Blogger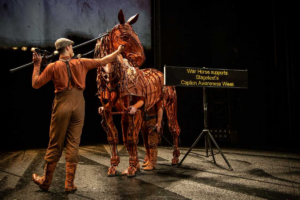 What's happening this Captioning Awareness Week?
Stagetext was founded in 2000 by three theatregoers with different types of deafness, who were frustrated by the lack of access to theatre performances in the UK. To mark the first ever captioned performance and Stagetext's 21st anniversary, a free-to-attend exhibition will take place at the Barbican from 13 November 2021 – 28 February 2022.
The exhibition takes us on a journey over the past 21 years as we look back at how far Stagetext has come and how captioning has affected the lives of those who use them.
The exhibition will take place in the foyer of the Barbican Centre, including an invite-only event on Saturday 20 November. If you would like to attend the event, please email [email protected].
Why is this campaign important?
Captioned performances and exhibitions have brought to life some of the best arts the UK, making a huge difference to those who were unable to access them before 2000.
What are captions?
Captions are similar to television subtitles, but with the actors' or presenters' words appearing on screens placed in the set (or the side of the stage) at the same time as they are spoken or sung.
How can you support the campaign?
As ever, we really need your support to help raise awareness of the campaign. There are a number of simple steps you can take to do this:
Organise an event
If you would like to organise a captioned event at your venue during the week (or throughout November), please get in touch with us to discuss your needs.
Alternatively, if you already have a captioned performance or event, you are welcome to use our Captioning Awareness Week branding. We can also include your performance in any PR and social media that we are organising.
PR support
We will be undertaking extensive outreach to national and local media in the run up to and during Captioning Awareness Week. Previous campaigns have been picked up the likes of ITV, the BBC, Press Association and the Daily Telegraph.
We would really welcome your support in helping the campaign to be picked up far and wide again this year.
Template press release
We will be sharing a template press release closer to the poll results being published which you will bewelcome to adapt to promote your plans for CAW. If you would like to see an embargoed release sooner, please email [email protected].
In the meantime, please feel free to use the planning notice to promote why you are supporting this year's campaign on your comms channels and, where relevant, what you are organising.
Planning notice and copy for newsletter
One of our main stories this year will the national polling, but in the meantime, you are welcome to use our planning notice to share with any media contacts and via your comms channels (newsletter, website etc).
Case studies and celebrity ambassadors
Do you have any case studies of people whose lives have changed through being able to access captioned performances and events? Do you have any cast members willing to speak on this issue? If so, please feel free to email us.
Does your organisation have any celebrity/renowned ambassadors who might be willing to lend their hand? We would really welcome their support in leverage interest in the media and via their social media channels.
New polling and insights into captioning and subtitle use
For the first time ever, we have undertaken some national polling of the UK public, asking 2,000 people for their views on access to the arts for deaf, deafened and hard of hearing people. The polling will be supported by a social media and PR campaign and we  will be providing assets you can share with your media contacts and across your social media and other comms channels.
We will be releasing the results in the run-up to Captioning Awareness Week and during the Week itself. Please get in touch if you would like to find out more.