Celebrate over 20 years of theatre captioning with Stagetext's touring exhibition
Thanks to support from the National Lottery Heritage Fund, we have created the world's first archive and exhibition on open captioning.
"Captions Speak Louder" guides you through the history of captioning using the stories and memories of caption users, our founders, and the staff and supporters who have worked with us over the last two decades.
This is an ever-evolving project that will exist online and as a touring exhibition, which will continue to add pieces of history and new stories as the art of captioning continues to develop.
You can see the online part of the exhibition here.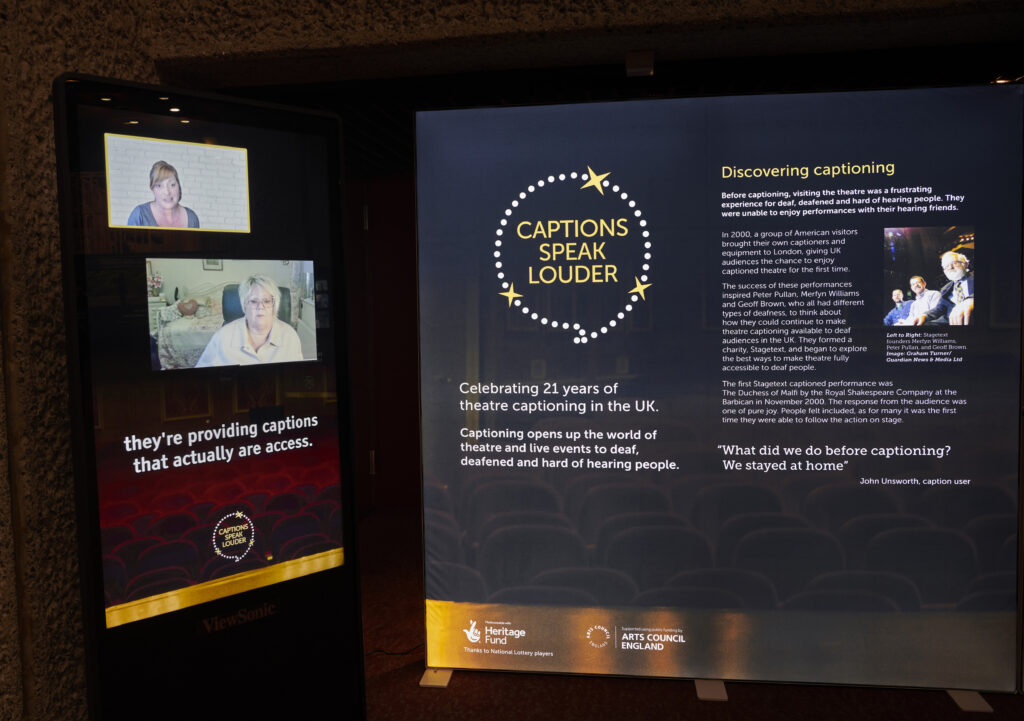 We would love to give all venues who have continued to show their support for captioning and deaf access the opportunity the take on the exhibition and bring the history of captioning to their audiences.
The exhibition itself is very versatile and can be displayed using a range of configurations, with collapsible panels and multiple video screens that can be installed to fit any space. We've put together the full details so you can see a little more about the exhibition and see how it can be set up in your venue.
Booking the Exhibition
The exhibition will be on tour for the rest of the year and we recommend booking early for your chance to bring it to you venue.
We advise that the exhibition should be on show for at least a month, to ensure all venues get an opportunity to display it, as well as giving your audiences a chance to visit. We can also accommodate full seasons if you'd like to display the exhibition for longer.
To book your slot please contact Emma Harris at [email protected]
You can also see the online exhibition at:
www.stagetext.org/captions-speak-louder
The Exhibition on Location
Dimensions and Installation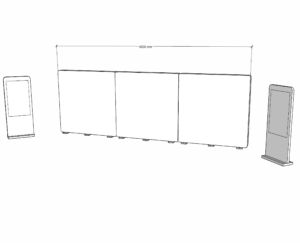 Configuration One:
This configuration uses three lightboxes and two screens.
The exhibition can be easily placed against a wall to reduce congestion in public spaces.
This configuration will require access to power for 8 plugs.
Full width is 7.54m (individual dimensions can be found below)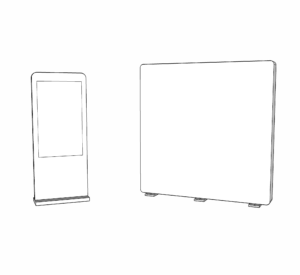 Configuration Two:
Configuration 2 uses one lightbox and one screen.
This configuration will require access to power for 3 plugs.
Full width is 2.77m (individual dimensions can be found below)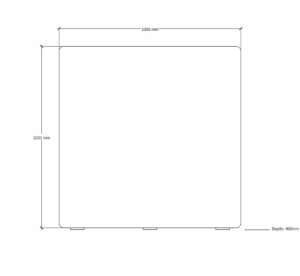 Light Panels
The exhibition uses one or three modular
lightboxes.
Each panel is 2m x 2m x 0.40m.
The lightboxes are lit by two led units, each requiring mains power.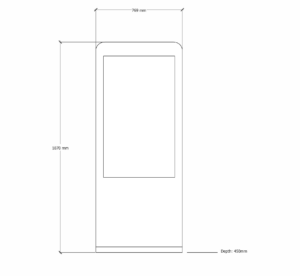 Video Screens
The exhibition contains one or two totem screens, each showing captioned, looped films which are preinstalled.
Each screen is 1.97m x 0.77m x 0.45m
The screens do not require any special operation, and only require mains power.
Installation
Installation will require one day, with two members of staff provided by Stagetext. We will also supply all power cables and provide a full risk assessment.
The setup does not require any specialist tools or dangerous equipment, and can be set up with minimum impact on the space.
Removing the exhibition will take an additional half-day, with staff provided by Stagetext.
If available, Stagetext would prefer to store the compact exhibition cases at the venue for the duration of the exhibition.